You don't have to do anything to read a book. Just put the book on the reading stand and wait. When the book has been read, tap Put On Shelf.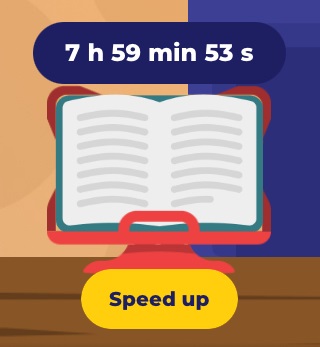 If you don't want to wait, you can read books instantly using coins or accelerate the reading process by watching a video. Move a book to the reading stand and tap Speed Up.
Each of the four book types gives you a different number of wisdom points when you read them:
Magazine – +3 wisdom points;
Book – +9 wisdom points;
Novel – +15 wisdom points;
Encyclopedia – +25 wisdom points.
The thicker the book, the more time it takes to read:
Magazine – 3 hours;
Book – 8 hours;
Novel – 12 hours;
Encyclopedia – 18 hours.