There are four types of book in the game: Magazines, Books, Novels, and Encyclopedias.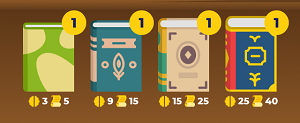 You can perform the following actions on every book:
Read – to gather wisdom to increase your Library level.
Disassemble (available once you receive your first wardrobe item) – to get scrolls. Scrolls are required to create wardrobe items in the workshop.
You will get your first item after playing 15 games.